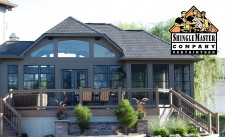 ​Gettum Associates Helps Preps Indianapolis Area Homeowners for Winter with Roofing Tips
Greenwood, IN, October 11, 2016 (Newswire.com) - ​​​With winter just around the corner, the pros at Gettum Associates would like to help Indianapolis area homeowners evaluate how ready their roofing is for winter weather.
"The more homeowners understand how their homes work, the better," says Gettum Associates Vice President, Jason Gettum. "When you can look up at your roof and identify issues yourself, you'll be more likely to catch and fix them before they cause major problems mid-winter."
"The more homeowners understand how their homes work, the better. When you can look up at your roof and identify issues yourself, you'll be more likely to catch and fix them before they cause major problems mid-winter."

Jason Gettum, Gettum Associates Vice President
Catching roofing issues early is important because winter can be a difficult time to repair damage. Plus, damage that's caused by a major leak is much more expensive to fix than repair work which happens before a major issue.
Below are a few of the common signs homeowners can easily identify if they take a moment to examine the health of their home's roofing.
Leaks! Leaking in your home is probably the biggest and most obvious warning sign that your roof is has a major flaw. If you're noticing a leak or if your roof is getting up there in age it would be a wise decision to head up to the attic and take a look around. Think leaks are not an issue in winter? Think again! Winter ice dams can trap meltwater, which can seep back up under shingles and drip through the roof into your house.
Missing Shingles: Most people first notice missing shingles when they appear on the ground around the home. Missing shingles can quickly lead to interior damage in your house when your roof begins leaking. If you notice missing shingles, or even cracked, blistered or curled shingles, call a local roofer for an inspection before it gets any worse.
Curled Shingles: As mentioned above, shingles that are rolled up or curled up around the edges are also showing signs of imminent roofing failure. Shingles only do this once they've been exposed to extreme forces, such as incredibly hot temperatures or sun for too long. These shingles need to be replaced quickly before water can get in underneath the lifted shingles. If only one or two shingles are lifted, replacing the shingles is a viable option, but when a significant portion of the shingles have this problem, a full roof replacement may be necessary.
Increased Heating Bills: Have you noticed increases in your heating bills over the last few winters? If your bill is increasing and you're not quite sure why, it could be due to poor insulation from your attic and roof. Many homeowners focus on doors and windows to help lower electric bill costs since they're easier to access. Poor roofing insulation causes air to enter and exit more frequently, which could result in skyrocketing energy bills especially in the winter since your heating will have to work extra hard.
Granules in the Gutter: Is your roof over 10 years old? Seeing granules in the gutter is a sign that your roof may be on the way out. Once the granules fall off and the shingles start to bake, the quality of your roof will deteriorate in a hurry.
Old Age: Asphalt shingles generally have a lifespan of 20-25 years, depending on local weather conditions and other factors. If your roof is 20 years or older, it should be routinely inspected for signs of deterioration that indicate it's time for replacement.
Fall is a great time to check your roofing for any issues and consider getting a roof inspection by a professional. Most inspections or consultations are free, and you'll get the scoop on whether your roof will be able to make it safely through another winter.
Gettum Associates Roofing Services
Whether you need to replace the worn out shingles on your roof, or you have hail or storm damage, Gettum Associates can complete your project with honesty and integrity and will be around to service the life of your roof.
We install shingles from all major manufacturers such as Certainteed, Owens Corning, GAF and Tamko and can match most current roofs in service. Plus, at Gettum Associates, all our roof installation work comes with a 5 Year Workmanship Guarantee. This means that if there is an issue with your roof, we'll come back and make it right!
Get to Know Gettum Associates, Inc.
If you're an Indianapolis-area homeowner and want to plan your home remodeling project, get in touch with Gettum Associates, Inc. by calling 1-317-542-3853, visiting www.gettum.com, or sending an email to remodel@gettum.com.
Source: Gettum Associates, Inc.
Share: